I want to delete my account, what can I do?
Please be aware that this can't be reversed, and all your learning progress will be permanently lost once the account is deleted from our system and this doing this does not delete/cancel your subscription from Ling. To cancel your subscription, you need to go through Apple or Google, if purchased from one of their stores as per their subscription maintenance policies or through our website if you purchased your subscription on
Ling-app.com
.
Should you still wish to delete your account, please follow the steps below:
Tap on "Profile", located on the top right-hand of the app Home screen
Tap on the Setting icon (Gears icon), the second icon located on the top right-hand of your screen
Under the Settings page, scroll down and tap "Delete Account"
After reading our notice, click "Yes" if you'd still like to delete your account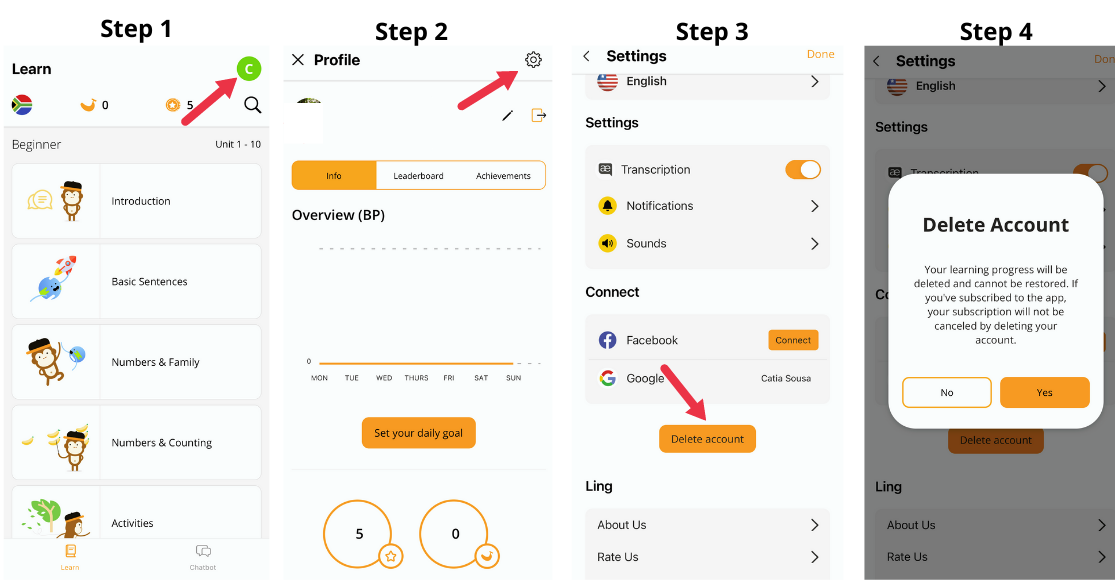 If you have any questions or face any issues with the app, you can contact
support@ling-app.com
. We'll get back to you within 24 hours!
At Ling, we want to enable everyone to learn something new every day.
---
Related Articles

Customize your account with Ling

Customizing your account on the Ling app can enhance your overall learning experience and make the app feel more personalized to you. By taking advantage of the various customization options available, you can tailor the app to your preferences and ...

Can I share my subscription with another account?

No, Ling doesn't allow sharing subscriptions. We currently offer 4 different subscriptions: monthly subscription, semi-annual subscription, yearly subscription, and a lifetime membership. If you'd like to know more, you can read this article. But, ...

I can't access my Premium account. How can I fix it?

We know that it can be very frustrating when one day, you suddenly realize that you can't access your Ling Premium account. There's probably a lot going through your head, like, "Was my subscription lost?" But don't worry! Your subscription details ...

How can I cancel my subscription?

If you want to cancel your subscription, follow these steps! Steps to cancel on an Android device: 1. On your Android phone or tablet, open Google Play Store 2. Check if you're signed into the correct Google Account 3. Tap "Menu Subscriptions" 4. ...

Ling Premium: Subscriptions, what options do I have and how much do they cost?

Right now, Ling offers 60+ language courses, with each language having over 200 lessons! The first two beginner units and the first 2 topics in Chatbot feature are FREE no matter the language. You can also use Ling on your laptop and, if you log in ...