How can I turn on/off the notifications?
Many users like to have their notifications activated so they can receive Daily Learning Reminders and Weekly Progress Reports, but others prefer not to be bothered when they're not using the app.

Here's how to turn notifications turn on/off:

Open the app.

Go to the Profile page by tapping the Profile button in the top right-hand corner of the Learn

screen.

Go to

Settings

by tapping the "gear" icon ⚙️.

Go to Notifications.


Select the notifications that you wish to

turn on/off at each toggle.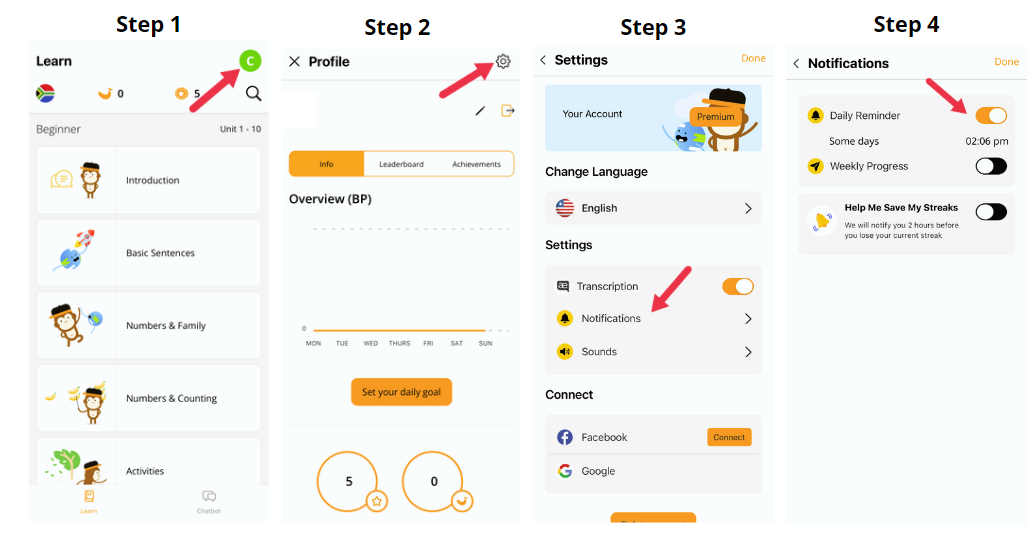 If you have any questions or face any issues with the app, you can contact
support@ling-app.com
. We'll get back to you within 24 hours!
At Ling, we want to enable everyone to learn something new every day.
---
Related Articles

How can I turn off/on the transcription?

Many users like to turn off the transcription once they've reached an advanced level, while some users still like to see the transcription in order to help them learn languages with non-Latin alphabets better, such as Korean, Thai, or Japanese. So, ...

How to enable/disable sounds in Ling app

In the Ling app, there are 3 types of sound settings that you can change or adjust: Sound Effects - This toggle allows you to turn sound effects on or off, such as the congratulatory tone that plays after you finish a lesson Autoplay Sound - This ...

How to play the Dialogue Game in Ling

In the Dialogue game, you need to fill-in-the-blanks of the dialogue with the correct word given at the bottom of the screen. If you're still having trouble playing this game, please read the instructions below! Before starting this game, make sure ...

The Speaking Game does not work in Ling app. How can I fix this?

Ling's Speaking game requires internet access to compare your voice with our online database, so please ensure you have a steady internet connection when using the Speaking game. If you're still experiencing problems with the Speaking game, you can ...

Settings in Simply Learn app - Customize your language learning

In Simply Learn app for learning languages, you can configure the settings to customize your learning program. From Home screen, open the left-side menu, then go to Settings. 1. Male version: In some languages such as Thai, man and woman use ...