How can I turn off/on the transcription?
Many users like to turn off the transcription once they've reached an advanced level, while some users still like to see the transcription in order to help them learn languages with
non-Latin alphabets better, such as Korean, Thai, or Japanese.
So, how can you do that? Here's how you turn transcriptions on and off:

Open the app

Go to the Profile page by tapping the icon in the top right-hand corner of the Home screen

Go to Settings by tapping the "gear" icon

⚙️



Switch on/off the transcription toggle to choose whether you'd like to see the transcription on lessons or not

If you turn on the transcription toggle, the transcription will show in the lesson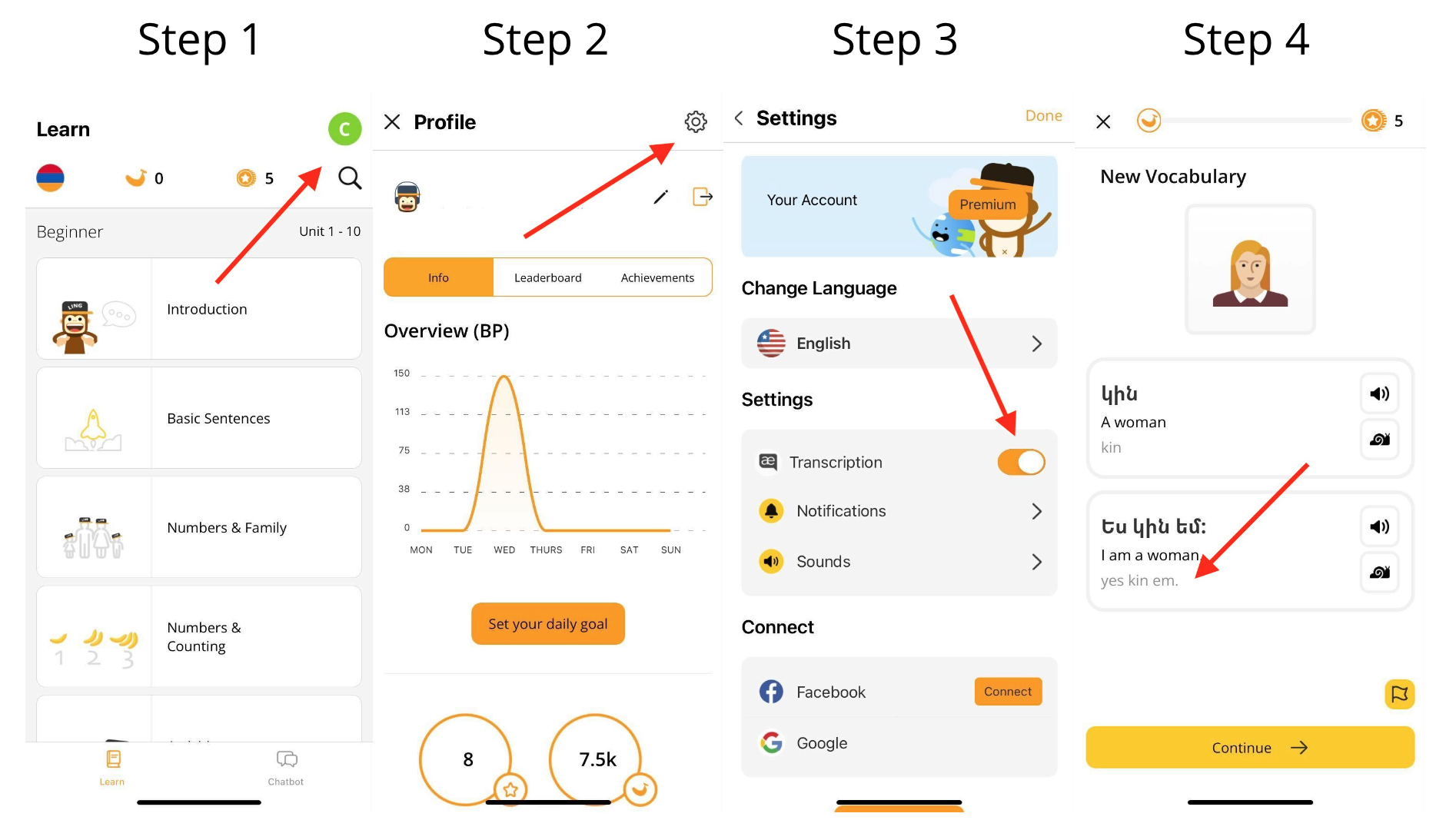 If you have any questions or face any issues with the app, you can contact
support@ling-app.com
. We'll get back to you within 24 hours!
At Ling, we want to enable everyone to learn something new every day.
---
Related Articles

Can I learn languages with Ling on a computer?

Yes, you can learn languages with Ling on a computer! You can even sync your progress from your computer to your mobile app. Access the Ling Web version here: https://get.ling-app.com/nAWo Why should you learn with Ling Web? 1. FREE: Premium users ...

Hacks to learn all 60+ languages in Ling app without buying different subscriptions

What makes Ling stand out amongst all other language apps is its high number of language courses. Currently, Ling offers 60+ languages, and each language has over 200 lessons! If you're a language lover and want to learn several languages at a time, ...

How to play the Dialogue Game in Ling

In the Dialogue game, you need to fill-in-the-blanks of the dialogue with the correct word given at the bottom of the screen. If you're still having trouble playing this game, please read the instructions below! Before starting this game, make sure ...

How to change the native language in Simply Learn app?

When you learn a language with Simply Learn app, the translation for words & sentences, as well as the buttons are displayed in a native language. For example, if you are Korean and you learn Thai, your native language is Korean while your target ...

How can I turn on/off the notifications?

Many users like to have their notifications activated so they can receive Daily Learning Reminders and Weekly Progress Reports, but others prefer not to be bothered when they're not using the app. Here's how to turn notifications turn on/off: Open ...