How can I change the payment details on Ling Web?
If you subscribe to Ling on
Ling web
, you can change your payment details on our website. Here's how!
Open Ling web and log in to your Ling account

Click on your profile picture to go to your profile page

Click the "ACHIEVEMENTS" button below your email address

Click the "Manage subscription" button (this should direct you to your Ling Premium information page)

Click the "UPDATE PAYMENT METHOD" button

Fill out your new payment detail and click the "SUBMIT" button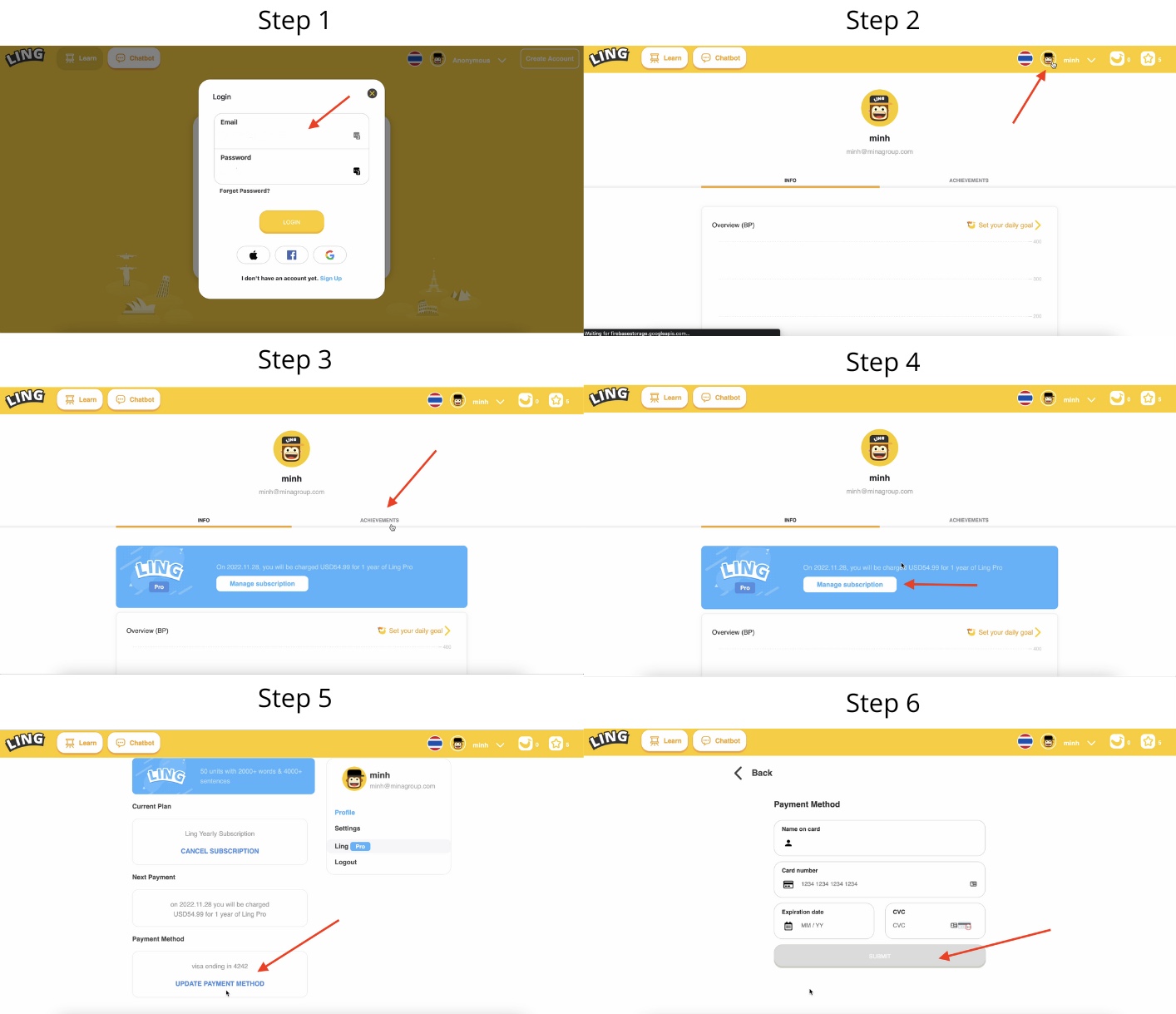 If you still want to see the demonstration of how to change your payment details, please watch this
video.
Please note that this only applies to subscriptions through Ling web. If you subscribed to Ling on Google Play or App Store, don't forget to check the links below to update your payment details:

For Google Play: https://support.google.com/googleplay/answer/4646404?hl=en&co=GENIE.Platform%3DAndroid
For App Store: https://support.apple.com/en-us/HT213276

Ling wants to inspire everyone to connect through language!
---
Still have questions? Email us at support@ling-app.com
Related Articles

Hacks to learn all 60+ languages in Ling app without buying different subscriptions

What makes Ling stand out amongst all other language apps is its high number of language courses. Currently, Ling offers 60+ languages, and each language has over 200 lessons! If you're a language lover and want to learn several languages at a time, ...

Can I learn languages with Ling on a computer?

Yes, you can learn languages with Ling on a computer! You can even sync your progress from your computer to your mobile app. Access the Ling Web version here: https://get.ling-app.com/nAWo Why should you learn with Ling Web? 1. FREE: Premium users ...

How can I cancel my subscription?

If you want to cancel your subscription, follow these steps! Steps to cancel on an Android device: 1. On your Android phone or tablet, open Google Play Store 2. Check if you're signed into the correct Google Account 3. Tap "Menu ...

Can I share my subscription with another account?

No, Ling doesn't allow sharing subscriptions. We currently offer 3 different subscriptions: monthly subscription, yearly subscription, and a lifetime membership. If you'd like to know more, you can read this article. But, that doesn't mean you can't ...

How to change the native language in Simply Learn app?

When you learn a language with Simply Learn app, the translation for words & sentences, as well as the buttons are displayed in a native language. For example, if you are Korean and you learn Thai, your native language is Korean while your target ...